I just love this time of year! I have many fond Christmas memories from my childhood and I never knew how much it would mean to me to begin to build memories like those with my own family. I feel especially blessed this year to have Bryce to share the season with. And this year we're beginning a holiday tradition of opening our home for Christmas weekend to ALL of our friends and family. I'm so looking forward to a house full of family, friends, food and laughter - what more can you ask for for Christmas?!
One of my fondest Christmas memories from childhood is our annual trip out to Elgin, TX to the
Elgin Christmas Tree Farm
. This year, on our way home from a great Thanksgiving trip to Louisiana and then Houston, we made our little family's first annual trip to the very same farm from my childhood. So much of it was just as I remembered, from the hay rides to the hot chocolate and eventually, after much searching, walking and deliberating, to the discovery of the "perfect" tree.
We opted to carry Bryce (poor decision?) so he could be a part of the action. He really seemed to appreciate it, despite the wind and chill, as you can see here.
And after a long, long hunt - we finally found it!
So now the endeavor to get the tree decorated, the outside lights up and the indoors festively adorned has begun. I'm determined to take it slow and enjoy every second.
In the meantime, I also had the opportunity to get our Christmas cards ordered today. We ordered them from
shutterfly
, who have some great designs at pretty reasonable prices. I can't wait for them to arrive - not only so I can turn them around and get them right back out - but so I can see them too! Here's a sneak preview: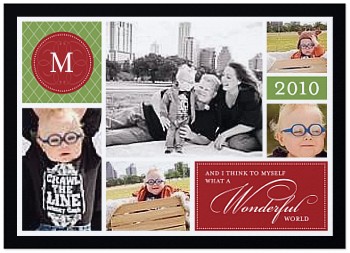 With Love Chartreuse Christmas 5x7 folded card
I am forever indebted to Candi (
Candi Coated Photography
) for the adorable pictures on the cards. She did an amazing job of capturing our family despite unruly wind and a cast of clowns. If Candi hasn't taken a picture of you and your family yet you're missing an opportunity to capture a moment in time perfectly. You can check out
Candi Coated Photography on Facebook
too! Thank you, Miss Candi - we love you!!